Family Iron Bowl 2005
The Crimson Tide prevailed in a thrilling 70 - 56 win over rival Auburn on a hot sunny afternoon in Florida. Defenses were nowhere to be found as Alabama drew first blood on their opening possession to make it 7-0. After that, both sides traded scores until late in the second quarter when Bama went up by two touchdowns thanks to an interception return by David Hall. But Auburn would not be denied as Mike Hall caught a late touchdown pass to pull within 7 right before the half.
The second half started off bad for the Tide as Auburn Safety Teddy Hall picked off a David Hall pass intended for Richard Doviak and returned it 15 yards to set up another Auburn touchdown. The third quarter ended with Bama and Auburn tied 49-49.
Auburn would start the final quarter with quarterback Teddy Hall finding receiver Mike Hall on a deep post route for the score. The Alabama offense would answer with a touchdown on a 4th and long play. Quarterback David Hall scrambled to his right and found Matt Boyce in the end zone on a critical play. The Auburn offense only managed one first down before turning the ball over on downs. Alabama wide-out Marc Hall found the endzone next after a short catch that turned into a long run thanks to a missed tackle and a great move. Trailing 63 - 56, Auburn still couldn't move the ball and again had to turn the ball over on downs after the Alabama defense stiffened. The Tide iced the game with Megan Gray catching a 15 -yard touchdown pass from David which sealed the game and the victory.
2005 Box Score

Team

1st

2nd

3rd

4th

Final

Alabama

21

14

14

21

70

Auburn

14

14

21

7

56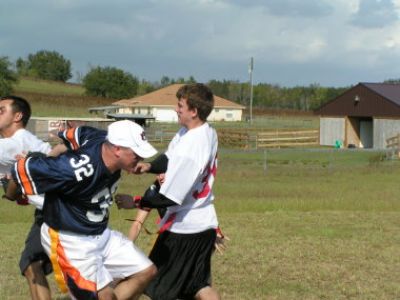 Auburn wide receiver Mike Hall was the games MVP after catching 7 touchdown passes, 1 rushing touchdown, and added countless amounts of yardage. In fact, only one other pass was caught by another Tiger receiver, Kim Hall, which only went for short yardage. Quarterback Teddy Hall also had a stellar day for Auburn throwing for at least 300 yards and 8 TD's.
Defensively, corner Cindie held the Auburn receivers in check the whole day. Cindie was credited for holding Sylvia Hall, and Kim Hall to a combined 1 catch for 5 - yards. Defensive pressure was also applied on Auburn Quarterback Teddy Hall by DE Megan Gray, SS Matt Boyce, CB Marc Hall, and LB Richard Doviak which led to two interceptions returned for touchdowns.
After the game ended, emotions ran high as extra curricular activities resumed at midfield. Fortunately, no one was hurt although three Auburn starters got up slowly. In fact, Auburn stand-out Mike Hall initiated most of the festivities throughout the game
2005 Stats
| | | | | | |
| --- | --- | --- | --- | --- | --- |
| Alabama | | | | | |
| Passing | Comp | Att | Yds | TDs | Int |
| | | | | | |
| | | | | | |
| Rushing | Att | Yds | TDs | | |
| | | | | | |
| | | | | | |
| | | | | | |
| Receiving | Rec | Yds | TDs | | |
| | | | | | |
| | | | | | |
| | | | | | |
| | | | | | |
| | | | | | |
| Defense | Sacks | Int | Safety | TD | |
| | | | | | |
| | | | | | |
| | | | | | |
| | | | | | |




| | | | | | |
| --- | --- | --- | --- | --- | --- |
| Auburn | | | | | |
| Passing | Comp | Att | Yds | TDs | Int |
| | | | | | |
| Rushing | Att | Yds | TDs | | |
| | | | | | |
| | | | | | |
| Receiving | Rec | Yds | TDs | | |
| | | | | | |
| | | | | | |
| Defense | Sacks | Int | Safety | | |
| | | | | | |
| | | | | | |
| | | | | | |